A condensed version of The Midwife's Story to be used on an individual or group basis.
Nancy C. Reeves, Author
Dr. Nancy C Reeves, R. Psych is a Registered Psychologist, psychotherapist, spiritual director, best-selling author, award-winning columnist, and published poet. She is director and psychotherapist in the Island Loss Clinic, adjunct faculty at the University of Victoria, and has conducted numerous lectures and workshops in 9 countries. Nancy has published over 60 articles in professional journals and general interest magazines. She is the recipient of the Victoria WM/YWCA Woman of Distinction Award for her work with children and adults.
Margaret Kyle, Illustrator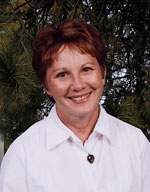 Margaret Kyle was a part of the creative process at Wood Lake Publishing for more than 20 years. She has illustrated many children's books, including The Family Story Bible and Lectionary Story Bible (Years A, B, C) by Ralph Milton; Is that Story True, by Laura Alary, and After the Beginning by Carolyn Pogue. Her painting "Burning Bush" graces the cover of the hymnal More Voices.