Still your busy heart with The Midwife's Story: Meditations for Advent Times. In this season of waiting, it is easy to get caught up in the tension and the stress. There is great value in taking quiet time for reflection.
The Midwife's Story will allow you to ready yourself spiritually for the birth of the Divine. As the title suggests, it is a poem about a very special midwife who may have been present at the birth of Christ. The poem, which reminds us that holiness comes to the world through a physical body, is accompanied by beautiful illustrations that are meant to help open your mind and heart, and bring new awareness and insight.
The second half of the book invites you to delve deeper, by exploring a different theme for each of the poem's eight sections. The Midwife's Story will assist you on the journey through Advent and help you learn what healing or growth God is wanting to bring to birth in you.
Nancy C. Reeves, Author
Dr. Nancy C Reeves, R. Psych is a Registered Psychologist, psychotherapist, spiritual director, best-selling author, award-winning columnist, and published poet. She is director and psychotherapist in the Island Loss Clinic, adjunct faculty at the University of Victoria, and has conducted numerous lectures and workshops in 9 countries. Nancy has published over 60 articles in professional journals and general interest magazines. She is the recipient of the Victoria WM/YWCA Woman of Distinction Award for her work with children and adults.
Margaret Kyle, Illustrator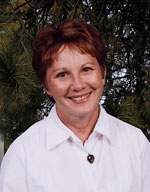 Margaret Kyle was a part of the creative process at Wood Lake Publishing for more than 20 years. She has illustrated many children's books, including The Family Story Bible and Lectionary Story Bible (Years A, B, C) by Ralph Milton; Is that Story True, by Laura Alary, and After the Beginning by Carolyn Pogue. Her painting "Burning Bush" graces the cover of the hymnal More Voices.
Submit a Review
John Toews
The story is told in a powerful, beautiful poem, rich in evocative imagery. Stunning wood cut images of hands by artist Margaret Kyle punctuate the images suggested by the poem. This telling of the story itself is fully satisfying and complete in itself. However Reeves then leads us through a series of meditations based on the poem and accompanying scripture. The meditations are ostensibly for Advent, but applicable for any other time as well.
The poem, art and meditations are graciously inclusive. This old story is bursting with new images that I will continue to reflect on for some time.
Nancy Reeves has given us gift that will remain in the minds of readers for some time to come.
Carol Segal, The Montreal Anglican
Written by Nancy Reeves and illustrated with graceful woodcuts by Margaret Kyle, The Midwife's Story is an invitation to journey through this Advent season preparing yourself to become a more intentional revealer of God's will.
The Midwife's Story, filled with purity and hope, is unforgettable. Every Follower of the Way would be enriched by holding a copy in hand on the walk through Advent to Christmastide.
Brenda Kelly, Library Lines
This small, beautifully presented volume of poetry, woodcuts, scripture, and meditation ideas for Advent is a unique work.
This small but powerful book can be used by individuals or groups, and an accompanying study guide is available. Highly recommended for anyone looking for thoughtful self-examination during the hectic pre-Christmas season.
Joan Palmer, The Rare Bird
This small book is a treasure, suitable for individual or group meditation. Recommended.
Paul Matthew St. Pierre, The B.C. Catholic
The poem is quite charming in its sentiment.