Click here for a FREE Downloadable PDF of Sorry: Why Our Church Apologized
Sometimes it is not so hard to say sorry. Sometimes it is very hard. What matters most is meaning it when you say it.
You likely know what it's like. You likely remember a time when someone said sorry to you. Maybe you've heard about a church saying sorry as well.
One surprising year, the United Church of Canada people did just that. The church has members in Newfoundland, Yukon, and everywhere in between. The people who attend have Asian, Indigenous, African, and European ancestry — Canadians are from everywhere!
This is the story of why the United Church people apologized for the suffering caused by the Indian Residential Schools.
Carolyn Pogue, Author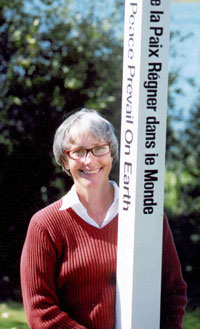 Freelance writer and editor, Carolyn Pogue's work includes books, plays, articles, poetry and short fiction for both children and adults. She has edited several books, including Treasury of Celebrations and written Language of the Heart and Part-Time Parent for Northstone (an imprint of Wood Lake Publishing). Carolyn's latest work is a spiritual ecology book for children called After the Beginning (CopperHouse) and A World of Faith: Introducing Faith Traditions to Teens.
Carolyn Pogue grew up on a farm near Toronto, Ontario. She is part of a group of women in The United Church working to end child poverty. She loves canoeing, camping and making art with Michael, Kate, Tristan, Foster and other kids. She writes a blog for The United Church Observer. To learn more about Carolyn, visit her website www.carolynpogue.ca
Bill Phipps, Author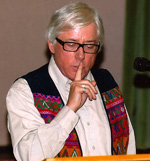 The Very Reverend Dr. Bill Phipps is currently one of the ministers at Scarboro United Church in Calgary, AB. He was Mod-erator of the United Church of Canada (1997-2000) and is an International President of the World Conference on Religion and Peace.
Phipps has had a varied career as a lawyer, community organizer, hospital chaplain, adult educator, and minister. He has an abiding involvement in social justice work, particularly with interfaith partners and First Nations. He has academic degrees from the University of Toronto, Osgoode Hall Law School, and McCormick Theological Seminary.
Phipps is married to writer Carolyn Pogue, and they enjoy three adult children and their partners, and one grandchild.
Maggie McLeod , Author
Maggie McLeod is a Cree woman from the Treaty 4 area (Peepeekisis First Nation) She grew up in Saskatchewan, then moved to Saugeen Ojibwa Territory (Ontario) where she raised daughters Nancy and Natasha. The United Church of Canada has been important in Maggie's life. She is an intergenerational survivor of the residential school system. Maggie's father Wilfred Dieter attended File Hills Residential School and his parents, Fred Dieter and Marybelle Cote, attended Regina Industrial School. Maggie loves to spend time with her grandchildren Whitney, Isaac, Cayson, and Jack, and take long walks with her camera
Stanley McKay, Author
Stanley McKay was born on Fisher River Reserve, a Cree community. He attended Birtle Indian Residential School, then went to Teachers College to become a teacher. Later he went to the University of Winnipeg to obtain a degree in Theology and worked with the United Church of Canada. He was Moderator from 1992 to 1994. He is married, with three grown children and enjoys fishing in the creek with his three grandchildren.
Submit a Review
Colleagues List
Wayne A. Holst
This basic, simply-written and profound booklet has been co-authored by four people. Two are First Nations; two euro-Canadians and all are members of the United Church of Canada. They write to help people understand some very important things about human nature and inter-personal relations.
The booklet sells for a modest price and could serve well as a small-group study document. But it is also available free-of- charge for anyone who can read these words on a computer.
Thanks to several members of Colleagues List for creating (conceptualising, writing and publishing) this booklet. A timely document, it deserves broad consideration.