Funeral or memorial ceremonies are important in meeting the social and emotional needs of survivors. They can be important rituals to help us acknowledge a death and can often help people express pain.
In Language of the Heart, author Carolyn Pogue offers stories and resources for creating meaningful and healing ceremonies. The book answers the questions many of us have about financial and legal matters, living wills and ethical wills, organ donation, and what to expect at a funeral home. It also contains sample memorial ceremony outlines, prayers, and suggested scripture readings.
Also included are unique resources for situations when there has been a death of a child, when the relationship was unloving, or when the death was a suicide.
Carolyn Pogue, Author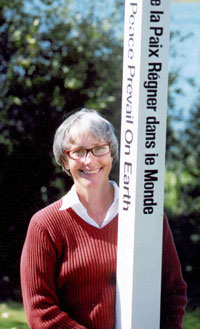 Freelance writer and editor, Carolyn Pogue's work includes books, plays, articles, poetry and short fiction for both children and adults. She has edited several books, including Treasury of Celebrations and written Language of the Heart and Part-Time Parent for Northstone (an imprint of Wood Lake Publishing). Carolyn's latest work is a spiritual ecology book for children called After the Beginning (CopperHouse) and A World of Faith: Introducing Faith Traditions to Teens.
Carolyn Pogue grew up on a farm near Toronto, Ontario. She is part of a group of women in The United Church working to end child poverty. She loves canoeing, camping and making art with Michael, Kate, Tristan, Foster and other kids. She writes a blog for The United Church Observer. To learn more about Carolyn, visit her website www.carolynpogue.ca