Here are 365 rich reflections that speak to the conversation women hold with each other and with themselves. Exploring topics such as, friendship, courage, envy, and family, Donna Sinclair looks beneath the surface of daily living to create a rich spirituality grounded in a woman's view of the world. These glimpses of inspiration will resonate in your mind and in your heart.
Donna Sinclair, Author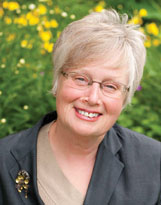 A journalist for more than 30 years, Donna Sinclair is an award-winning writer who has traveled widely in Canada, Africa, Central America, Britain, and Eastern Europe. She is the author of The Spirituality of Bread, The Spirituality of Gardening, A Woman's Book of Days, A Woman's Book of Days 2, The Long View and numerous other titles. Donna lives with her husband Jim in North Bay, Ontario.
Submit a Review
L. June Stevenson
This is a hand-sized book that will renew and inspire you each and every day of the year with reflections on life and living.
Carol Segal, Montreal Anglican
Its contents reflect a plethora of themes including, for example, family, friendship, contemporary times, spirituality, nature, and world peace. Each day's reading is compact and thought-provoking, written in accessible language.
Marion Pardy, The Observer
Mothers and daughters, grandmothers and aunts, singles and partners will smilingly shed a tear on occasion as we resonate with the precarious and loving influence of strong women on our lives, still shaping who we are.