Author John Bird invites us to discover how music touches us throughout our lives, from the pulsing rhythms we experience in the womb, to the music that will escort us out of life. In between, Bird shows how music connects us with family and friends and the world of the spirit; how it can express our "authentic voice," both as individuals and as members of particular cultural traditions; how it strengthens and unites us during times of protest, and comforts us during times of loss. He shows how music and word combine to integrate mind and spirit, and how music and movement combine to integrate spirit and body. As with all titles in this series, The Spirituality of Music is beautifully illustrated with full-color photographs throughout.
The simple singing of Happy Birthday renews our sense of personhood and identity within a community of friends and family. We seek the sublime sweep of violins at the symphony, the mighty roar of a massed choir, or the soaring scream of an electric guitar, to lift us out of our humdrum daily existence. Sometimes the music welds us for a few heightened moments, with all the other concert goers, into one mystical, organic whole, as together we celebrate our connection with one another and with the divine.
Join John Bird as he journeys into the mystic heart and soul of the music that forms the soundtrack to our lives.
John Bird, Author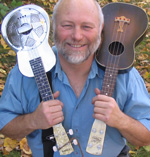 "John Bird is an award-winning journalist with more than 25 years experience as a writer with The United Church Observer and The Catholic Register, and as editor of Anglican Magazine, Catalyst (Citizens for Public Justice), and the book Nation to Nation: Aboriginal Sovereignty and the Future of Canada. Music has always been important to John, but never more so than in the past few years, after he fell in love with the ukulele and discovered the joy of making music with other people. John is a founding member of the Ontario band SwingBridge. He now lives in Iqaluit, Nunavut, with his wife, Lorraine, where he plays with The Road to Nowhere Band, sings in the Iqaluit Community Choir, and is always happy to jam with whoever will have him – including Lorraine. "