Buy more and SAVE! Purchase a 10-Pack for $39.96
Children love to colour and they love the art from the best-selling The Family Story Bible. (From everything we've heard, so do their parents, grandparents, and teachers!)
Now everyone can enjoy these wonderful images plus the fun of colouring, at the same time! The Family Story Bible Colouring Book features 28 pages filled with large, image outlines selected from the hundreds of fine water-colour illustrations contained in this ground-breaking children's Bible.
From its first publication, The Family Story Bible has held a special place among children's Bibles. Its use of inclusive language for God, its emphasis on stories that depict a God of love, its commitment to telling the stories of the women as well as the men in the Bible, its positive and life-affirming tone – all of these things have made The Family Story Bible a modern classic of children's religious literature. Every bit as marvellous as the text by Ralph Milton, Margaret Kyle's art – bright and colourful, full of wonder and joy – pulls it all together and helps bring the stories to life in the imaginations of children and adults alike.
The Family Story Bible Colouring Book is a perfect activity book for church and home alike. Makes a great gift for Sunday School classes!
Margaret Kyle, Illustrator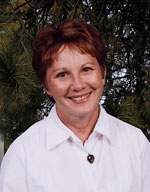 Margaret Kyle was a part of the creative process at Wood Lake Publishing for more than 20 years. She has illustrated many children's books, including The Family Story Bible and Lectionary Story Bible (Years A, B, C) by Ralph Milton; Is that Story True, by Laura Alary, and After the Beginning by Carolyn Pogue. Her painting "Burning Bush" graces the cover of the hymnal More Voices.