Sanctuary is a creative, practical, and easy-to-use resources for anyone wishing to pray with their whole being. The prayers, reflective quotes, Bible verses, music, and rituals engage the senses, move the emotions, and challenge the mind to look at life from a variety of angles. Sanctuary provides 28 uniquely contemplative prayer experiences covering a variety of themes that address issues of modern society and the spiritual life. Topics include: Sacred Simplicity, Healing Grace, Letting Go, Honoring Our Ancestors, Creativity and Playfulness, Winds of Change, Refugees, Holy Paradox, the seasons, and more...These inspirational prayer experiences are a must have for anyone involved in leading or preparing communal prayer.
Trisha Watts, Author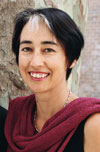 Trisha Watts is a singer, songwriter and teacher who has worked variously as a high school and InterPlay teachers, arts director, music publisher and youth minister. She has a passion for spirituality and community a cappella singing, and is presently studying voice movement therapy in the United States. Trisha has had numerous collections of her original music published, including Prophets of Hope, Take Shelter, Deep Waters, and Invocation, spanning a career of over 20 years.
Gabrielle Lord, Author

Gabrielle Lord is an award-winning crime novelist of international repute. Her gripping novels – Fortress; Whipping Boy; Salt; Bones; The Sharp End; Feeding the Demons; Baby Did a Bad, Bad Thing; and Lethal Weapon – have all risen to the bestseller lists, receiving accolades from around the world.