Readers will recognize their own pets - and themselves - in the many stories about Mush, Brick, and Phoebe, some of the animal companions who have filled Taylor's life. Fascinating insights from those who have studied the lives of pets and other animals add to the richness and depth of Taylor's text.
Heart-warming and inspiring, The Spirituality of Pets invites readers to explore their own spirituality, through the lens of the animals who share their lives. As Taylor says, "You may wonder, can animals teach spirituality if they don't have spirituality themselves? Our pets may or may not have spirituality themselves - and by the way, I do think that many animals experience elements of awe and wonder, just as we do - but certainly our association with them affects our own spirituality."
Beautifully illustrated with full-colour photography, The Spirituality of Pets celebrates the love and life and learning our pets bring to us, and the many ways they can open us to the world of the spirit.
James Taylor, Author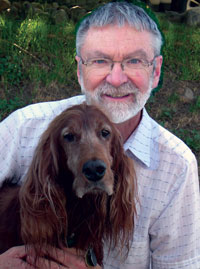 Jim Taylor is one of Canada's best known authors and editors among mainline churches and denominations. He is the author of sixteen books himself including The Spirituality of Pets (2006), An Everyday God (2005), Precious Days and Practical Love: Caring for an Aging Parent (1999), The Canadian Religious Travelguide (1982), Discovering Discipleship (with George Johnston, 1983), Two Worlds in One (1985), Last Chance (1989), Surviving Death (1993) republished as Letters to Stephen (1996), Everyday Psalms (1994), Everyday Parables (1995), Sin: A New Understanding of Virtue and Vice (1997), Lifelong Living (for the United Church's Division of Mission in Canada) (1983), and The Spiritual Crisis of Cancer (for the Canadian Cancer Society) (1984).
He was the founding editor of the ecumenical clergy journal Practice of Ministry in Canada (PMC) for the first 15 years of its publication. He was for 13 years Managing Editor of The United Church Observer. A co-founder of Wood Lake Books, Taylor lives and works in British Columbia's Okanagan Valley.
Submit a Review
Editor of Glad Tidings Magazine
Colleen Wood
These wonderful books explore the spirituality of several aspects of our lives. Each book covers a distinct topic and explores some of the reasons why these simple things can mean so much to us. Written by well-known authors, each of these hardbound books makes a lovely gift for anyone who enjoys these spiritual things.
Titles include:
The Spirituality of Pets by James Taylor
The Spirituality of Gardening by Donna Sinclair
The Spirituality of Bread by Donna Sinclair
The Spirituality of Wine by Tom Harpur
The Spirituality of Mazes and Labyrinths by Gailand MacQueen
The Spirituality of Grandparenting by Ralph and Beverly Milton