Author James Taylor has an amazing ability to see the power and presence of God in daily life. In Everyday Psalms he shows you this power. Translated into the image and language of contemporary life, James Taylor makes the poetry of the psalms live again.
James Taylor, Author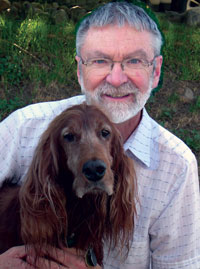 Jim Taylor is one of Canada's best known authors and editors among mainline churches and denominations. He is the author of sixteen books himself including The Spirituality of Pets (2006), An Everyday God (2005), Precious Days and Practical Love: Caring for an Aging Parent (1999), The Canadian Religious Travelguide (1982), Discovering Discipleship (with George Johnston, 1983), Two Worlds in One (1985), Last Chance (1989), Surviving Death (1993) republished as Letters to Stephen (1996), Everyday Psalms (1994), Everyday Parables (1995), Sin: A New Understanding of Virtue and Vice (1997), Lifelong Living (for the United Church's Division of Mission in Canada) (1983), and The Spiritual Crisis of Cancer (for the Canadian Cancer Society) (1984).
He was the founding editor of the ecumenical clergy journal Practice of Ministry in Canada (PMC) for the first 15 years of its publication. He was for 13 years Managing Editor of The United Church Observer. A co-founder of Wood Lake Books, Taylor lives and works in British Columbia's Okanagan Valley.
Submit a Review
Rev. Donald Schmidt, Editor
Jim Taylor has a way of re-stating the Psalms with a freshness and vitality that invites the reader to understand and experience their personal understanding of God in a new way.
Jim MacNaughton
I have been using Everyday Psalms since 1994 and have found it one of the best resources for both funeral and celebration of life services – Psalms 16, 23 have been especially uplifting for those who do not have a church background. Your turn of phrases have opened these beautiful scriptures in such a way that all people find meaning and comfort in them.
Psalm 72:1-7, 10-14
A lullaby of hope
Life will be different for you, my child.
You will break out of our prisons of oppression,
our ghettos of injustice.
Your mountains will rise clear in the morning.
Your valleys will offer cozy comfort in the setting sun.
You will not fall prey to prevailing values;
you will never exploit the powerless,
or profit from people's desperation.
Adversity will not grind you down,
nor will difficulties dissolve your determination.
They will only help you grow...
---
Psalm 28
A mighty oak
Thank you, God.
Beneath your branches, we are safe.
We see you reaching up to touch the sky,
and feel ourselves uplifted.
Your strength becomes our strength.
You are our shelter from the storm.
Protect us and watch over us,
and we will stay in your shade forever.