Based on the scripture readings from the Revised Common Lectionary, Prayers To Share offers church leaders an entire year's worth of responsive prayers for use in worship, and other church group settings. This first volume is for year B. Includes Call to Worship, Opening Prayer, Prayer of Confession, Words of Assurance, Offertory Prayer and Commissioning Prayer for each Sunday of the church year, including all the propers. A thematic index allows leaders to pick prayers by subject, for use in a variety church settings.
David Sparks, Author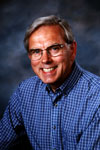 David Sparks was educated theologically in England and Canada and has served for 30 years with The United Church of Canada. David's previous three-book lectionary series, Prayers to Share, has been welcomed and widely used in North America and Europe and further afield in India and Australia.
Submit a Review
Susan Clarke, Glad Tidings
It is written in inclusive and contemporary language without being overly simplified, familiar while remaining reverent.
The Observer
Is eminently useful collection of worship resources tailored for the lectionary year.