Through the practice of personal pilgrimage she developed, Viki Hurst offers readers a tool to explore, contemplate, and reflect upon key midlife issues -- careers, relationships, sexuality, finances, spirituality, body image, mortality, and more. It encourages readers to take the time-out needed when midlife challenges crowd their busy calendars and psyches.
Drawing on the insights of people from Plato to Pierre Elliot Trudeau, Hurst introduces each of these concerns with a mini-essay, then asks 10 questions for reflection. Part 2 outlines 12 pilgrimages users can take to work on these issues, for example Abundance point (finances), Artist's Cove (relationships), and Career Paths (Career).
Viki Hurst, Author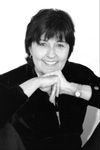 Viki Hurst holds a Master of Arts degree in Leadership Studies from the University of San Diego, with a focus on personal development. University professor, entrepreneur, personal coach to high achievers, public speaker and counsellor, she maintains life balance through frequent personal pilgrimages to the ocean and mountain sites of San Diego County, where she lives. Photo credit: Ellen Long Studios.