This is the story of a child who can't fall asleep because of a frightening storm. The child prays, "Dear God, please help me fall asleep," and imagines the words flying away on their journey to God. The vivid prose sweeps us along, tumbling through adventures until the prayer reaches its destination - safe in the hands of God.
This beautiful story with full color illustrations will fill your child with wonder and comfort.
Margaret Kyle, Illustrator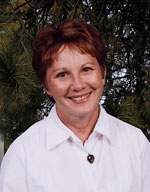 Margaret Kyle was a part of the creative process at Wood Lake Publishing for more than 20 years. She has illustrated many children's books, including The Family Story Bible and Lectionary Story Bible (Years A, B, C) by Ralph Milton; Is that Story True, by Laura Alary, and After the Beginning by Carolyn Pogue. Her painting "Burning Bush" graces the cover of the hymnal More Voices.
Cynthia Boldt, Author
Cynthia is an author who writes from the discovery that we are all children, regardless of our age. When, as adults, we uncover more of the child within us, we can identify more closely with the children around us. Cynthia chooses to use her first name only, to affirm the simplicity with which children identify themselves. She has also published poetry with the Canadian Broadcasting Corporation, and in university periodicals.