When I fell and skinned my knee, Mom would put a bandage on it and soothe me.
That's what moms are for.
If there was toast for breakfast and one piece was smaller than the others, or burned and shaped funny, Mom would snatch it and say,"I want that one."
That's what moms are for…
So begins That's What Moms Are For. Written by Spiro Vouladakis and illustrated by his mom, Margaret Kyle, That's What Moms Are For celebrates the enduring love between a mother and her son as he grows as a child at home, struggles with math homework in grade school, goes off to college, and eventually becomes a parent himself.
This heartwarming book is a delight for children of all ages and a perfect gift for any mom.
Spiro Vouladakis , Author
Author Spiro Vouladakis lives with his wife, Verena, and their three children: Hanna, Theo, and Freya. In the rare time he has away from being busy as a husband and father, Spiro enjoys building and crafting toys and stories for his own children. This is his first book.
Margaret Kyle, Illustrator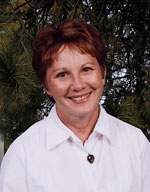 Margaret Kyle was a part of the creative process at Wood Lake Publishing for more than 20 years. She has illustrated many children's books, including The Family Story Bible and Lectionary Story Bible (Years A, B, C) by Ralph Milton; Is that Story True, by Laura Alary, and After the Beginning by Carolyn Pogue. Her painting "Burning Bush" graces the cover of the hymnal More Voices.