When seven-year-old Tabitha hears a message from Jesus while listening to a Bible story, she tells her three best friends -- Emma, Jacob, and Fu-Han (who are aged eight and nine). Intrigued by her experience, the friends find themselves wondering about how God speaks to people, and to kids in particular. And with that simple question, the God Detectives are born.
Adventures of the God Detectives is about a group of young friends who form a club to discover the variety of ways God invites us into a relationship. The book contains seven stories for children aged six to ten years old, and is illustrated with black and white line drawings. Each story includes "Notes for Adults," and "Questions to consider with Children," designed to help parents talk with children about spiritual experiences. Adventures of the God Detectives chronicles the discoveries Tabitha, Emma, Jacob, and Fu-Han make, as they meet a native elder and a Franciscan monk, encounter a little sister's "imaginary companion," interpret a dream, wrestle with their conscience, read the Bible, and pray.
Nancy C. Reeves, Author
Dr. Nancy C Reeves, R. Psych is a Registered Psychologist, psychotherapist, spiritual director, best-selling author, award-winning columnist, and published poet. She is director and psychotherapist in the Island Loss Clinic, adjunct faculty at the University of Victoria, and has conducted numerous lectures and workshops in 9 countries. Nancy has published over 60 articles in professional journals and general interest magazines. She is the recipient of the Victoria WM/YWCA Woman of Distinction Award for her work with children and adults.
Linnea Good, Author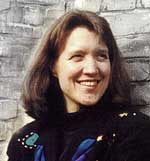 Linnea Good is a singer-songwriter helping individuals and churches express their souls through music. She is a leader in the fields of music in worship, biblical storytelling, and all-ages worship. Her background includes a Master of Religious Education degree with a specialty in music as an educational tool; tours to Europe, Australia, New Zealand, and India. The latest of her family CDs, Swimmin' Like a Bird, was thrice nominated for major Canadian awards as "Outstanding Children's Album of the Year." She and drummer-spouse, David Jonsson, are based in Summerland, British Columbia, where they co-parent, lead in choirs, schools, churches, and musical events, balancing an extensive touring schedule. You can find her online at www.LinneaGood.com.