In this valuable resource, Dorothy Henderson explains, encourages and enables all-ages learning. People looking for help in developing an all-ages learning program will be heartened by the wealth of practical advice Learning God's Stories Together provides.
The first part of the book explains the theory and practice of all ages learning. Dorothy opens our eyes to its myriad benefits. It's fun! It builds community. It lets us hear points of view from groups we might not normally have a chance to mingle with. Dorothy presents her ideas in an easily accessible style that will fit with almost any congregation, large or small.
Part two consists of 20 story sessions, each of which contains suggestions for gathering, for telling and talking about the story, and for exploring the story and making it part of your life. Dorothy presents her information in a friendly tone that encour-ages educators to be enthusiastic about embracing this rewarding style of learning.
Lisa-Dawn McKenzie, Author
LISA-DAWN MCKENZIE is a freelance writer and the mother of four – Neil, Holly, Susannah and Benjamin – all home-schooled. She has an MA in journalism from the University of Western Ontario and a BA in English literature from McMaster University. Lisa-Dawn is actively engaged in her home church in Norval, near Georgetown, Ontario.
Dorothy Henderson, Author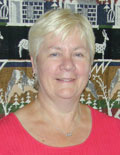 DOROTHY HENDERSON is on the staff of The Presbyterian Church in Canada national office where she has responsibility for Christian Education and Ministry with Children, Youth and their Families. She and her husband, John, live in Newmarket, On-tario, where Dorothy is active in her home congregation. They have three grown children – Sonya, Joel and Daniel. Dorothy has a diploma in Christian Education, an ARCT in piano, a BA in Religious Studies, and a MA in Religion and Culture.