"Between fish, my father and I, two men who are as comfortable with each other's voice as we are with each other's silences, talk about the purpose of things, and how everything fits into the overall design."
This book is like no memoir you've ever read. Paul Rath writes with the soul of a poet, his prose alive with vibrant images and metaphors that capture the raw beauty and challenges of fishing for white fish in the frigid November air – "when the wind takes us into her cold mouth, and crunches us between her teeth. Her cold makes our eyes freeze – until they feel like stones, frozen in their sockets of mud ..."
Yet this no mere fish story. As much as this book is about fishing, it is even more about relationships. Fishing with My Fathers explores the deep bonds that form between men of the earth, between men and the land and the water and the creatures that feed their spirits. Rath, the eldest son of a Lutheran pastor, pays homage to his father and tribute to the men who shaped and challenged him, even as he claimed his own space and place in their lineage. With wonderful humour and genuine sensitivity, he regales the reader with tales of his father, grandfather, great-grandfather, as well as of his mentors – of the men who taught him how to grow up, how to control his emotions, how to work, how to grow his spirit, how to love, as well as how to fish.
Paul D. Rath, Author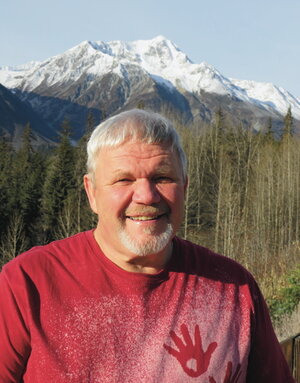 Paul D. Rath was a Canadian who was born in Brazil to Lutheran missionaries Ernest and Crystal Rath. When he was five his parents brought him home to Canada. He has lived in the Peace River country of Northern Alberta, the Okanagan Valley, and Victoria. He most recently lived with the catch of his life, his wife, Lisa, in the uppermost northwest corner of British Columbia, above Haines, Alaska, where the mountains are many and the people are few.
Rath studied creative writing at the University of Victoria and graduated with a B.A. in 1980. He has worked as a grocer, a letter carrier, a life insurance salesman, and retired from the Canada Border Services Agency, which he served in both Osoyoos and as a supervisor in Prince Rupert.
Rath was a contributing writer for What's Up Yukon, an arts and entertainment magazine, in which he shares his passion for stories about fishing, community life, and whatever else is happening along the Haines Highway in Alaska, British Columbia, and the Yukon.
When Rath was not fishing or writing, he was tending to his garden or fussing over his grand composting adventure. Sadly, Paul Rath died suddenly of a heart attack in June 2021.
Submit a Review
Deb Vanasse
Author of Wealth Woman: Kate Carmack and the Klondike Race for Gold
Paul Rath is a born storyteller who knows how to keep his eye on the float. With grace and humour, he shares a montage of memories that will leave you richer for the reading, whether you fish or not.
Bonnie Jarvis
Kelowna, B.C.
A thoroughly enjoyable read and you don't have to be a fisherman to benefit from all the life lessons throughout. Focus on your float and I can't wait for your next book.
Phyllis Schneider Mc Guffin
Victoria, B.C.
I enjoyed the story and memories. It awakened awareness of many of my values that I have, which were implanted by your father in my youth especially while studying Catechism. He was stern and persisted until we understood, no bluffing with him. He truly was a kind loving man. Looking forward to the release of your next book and your Mother's stories.