Turn a piece of paper and a drinking straw into a butterfly that really flies! Or, make a tiny manger for the Advent Season. 52 Crafts for the Christian Year is full of simple craft ideas organized by seasons of the Church Year. Great for Sunday School, Vacation Bible School, or at home.
crafts for all major celebrations, from Christmas & Epiphany to Lent & Easter
suggestions for adapting crafts to suit other special days and seasons
key scripture verses accompany each craft
step-by-step instructions and illustrations
seasonal recipes
Collected from over 10 years of The Whole People of God Christian Education and worship resource, the books in this series offer tried and true material in an easy-to-use format.
Donna Scorer, Author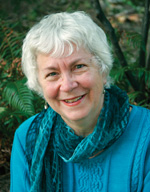 Donna Scorer has been writing and editing Christian education resources for young children for Wood Lake Publishing for over 20 years: first for The Whole People of God Nursery age level, and then for the Seasons of the Spirit Ages 3-5 resource. Donna is author of 52 Crafts for the Christian Year. An experienced pre-school teacher, Donna has recently retired and lives on Bowen Island, BC with her husband Tim.
Submit a Review
joyhoy356@aol.com
I need this book to enhance the story from the Bible. Our children love Crafts