A historical map of the world at the time of the early Christian church, showing cities that Paul visited on his journeys.
Anna Payne-Krzyzanowski, Author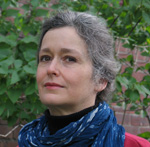 Anna Payne-Krzyzanowski is an illustrator, graphic designer, accomplished painter, and fabric artist. She has illustrated five books and has produced images for Novalis, Liturgical Press, The Anglican Church of Canada, The United Church of Canada, and The Globe and Mail. Anna has raised two talented boys and lives in Toronto with her partner, artist and teacher Stan Krzyzanowski.