Participants booklets are sold in sets of 12 as extras or to replace ones that have been lost or damaged from the Adult Faith Formation curriculum, Experiencing Jesus by Tim Scorer with Marcus Borg.
Tim Scorer, Author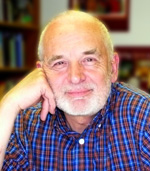 Tim Scorer is a master of experiential spiritual formation. Tim brings his passion for transformational faith and his practical experience with community organizations, congregations, and retreatants. He is author of Experiencing the Heart of Christianity (for groups) and co-author of Living the Heart of Christianity (for individuals), and the editor of the free e-newsletter, Christian Books INSIGHT, which connects people of the emerging Christian Way. Tim was a long-time member of the management team at Naramata Centre, a retreat education centre of The United Church of Canada, and for three years on staff at Penticton United.
Marcus J. Borg, Author
Marcus Borg is Hundere Distinguished Professor of Religion and Culture at Oregon State University and the author of the bestselling books The Heart of Christianity: Rediscovering a Life of Faith; Meeting Jesus Again for the First Time; Reading the Bible Again for the First Time; and The God We Never Knew. He is in great demand as a speaker throughout the United States and Canada and he increasingly focuses on the topic of how to be a true Christian in the contemporary world.